Polish TV-series on DVD
October 13, 2014
One of the hidden gems in the area of ​​the film versions of The Master and Margarita is definitely the Polish TV series Mistrz i Malgorzata realized by director Maciej Wojtyszko in 1988, and shown on the Polish TV channel TVP in 1990.
Until recently, those who wanted to watch this series could only rely on substandard VHS tapes of poor quality. They were offered on Amazon with vague, blurred images, a poor sound quality and lousy English subtitles.
Fortunately, in the autumn of 2014 TVP got quite unexpectedly the idea to release the series on DVD.
DVD with English subtitles
Naar goede traditie werden ook weer voor deze verfilming van een werk van Boelgakov weinig inspanningen geleverd om de liefhebbers buiten de Slavische wereld van dienst te zijn. TVP biedt deze DVD namelijk alleen aan in een Poolse versie, zonder ondertitels. Daarom had uw webmaster de reflex om te zorgen voor ondertitels in het Nederlands, Engels, Frans, Duits, Italiaans en Spaans. Het project gaat goed vooruit, en vanaf 1 november 2014 zal de DVD met deze ondertitels in de webshop van deze site worden aangeboden aan de prijs van 49,99 €.
Ase usual, ​​little efforts have been made to serve the fans outside the Slavic world for this adaptation of a work of Bulgakov. Because TVP offers this DVD only in a Polish version without subtitles. Therefore, your webmaster had the reflex to start making subtitles in English, French, Dutch, German, Italian and Spanish. The project is progressing very well, and the DVD with the subtitles will be offered at the price of € 49.99 in this site's web shop as from November 1, 2014.
Pre-sales offer
The visitors of the Master & Margarita website get the opportunity to reserve their copy, under pre-sales conditions. If you order no later than October 31, 2014, you have the DVD delivered to your home for € 39.99, without packing and shipping costs. So, don't hesitate. The first orders will be shipped on November 1, 2014.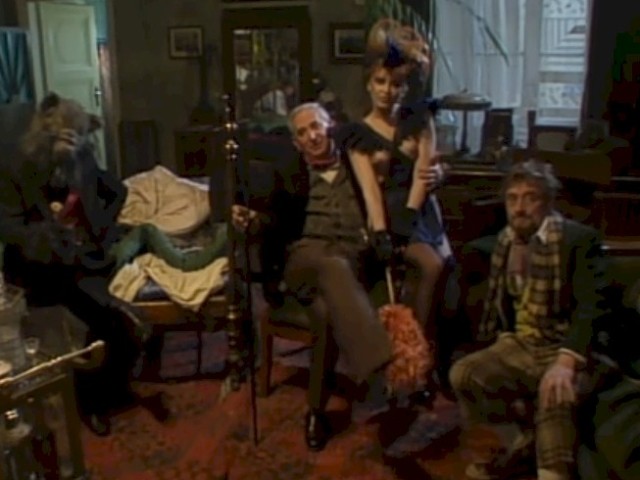 Zbigniew Zamachowski, Gustaw Holoubek, Maria Probosz and Janusz Michałowski
in Mistrz i Malgorzata by Maciej Wojtyszko (1990)
Click here to read more about this film
News archives


Install our free app
on your smartphone
Films and TV-series

Along with much information on the novel, you will also find on this website different film adaptations of The Master and Margarita, subtitled in English by your webmaster.
Navigation