New subtitles
August 24, 2016
In 1935, Mikhail Bulgakov wrote the theatre piece Ivan Vasilievich changes professions. At first, he got the permission to stage the piece, providing some changes in the text. On May 13, 1936, a last rehearsal was organised, immediately followed by a stage ban. The piece was never performed during Bulgakov's life.
In 1973, the Russian director Leonid Gaidai (1923-1993) made a screen adaptation of the piece. It became one of the most attended movies in the Soviet Union in 1973 with more than 60 million tickets sold. In the United States the film got known under the title Ivan Vasilievich: Back to the Future.
The film tells the story of the young Soviet engineer Shurik Timofeev, who built the prototype of a time machine. By accident, he transfers Tsar Ivan Vasilievich or Ivan the Terrible to the year 1973. Actor Yuri Yakovlev (1928-2013) plays a brilliant double role.
Subtitles
On November 1, 2016, the Master & Margarita website will launch Ivan Vasilievich: Back to the Future on DVD, with subtitles in English, French and Dutch. It will be available at the site's web shop at a price of 24,99 €. The visitors of the Master & Margarita website have the opportunity to pre-order their copy with a discount. If you order no later than September 15, 2016, you can have the DVD at 19,99 €, with no packing and shipping costs.
Click here to reserve your copy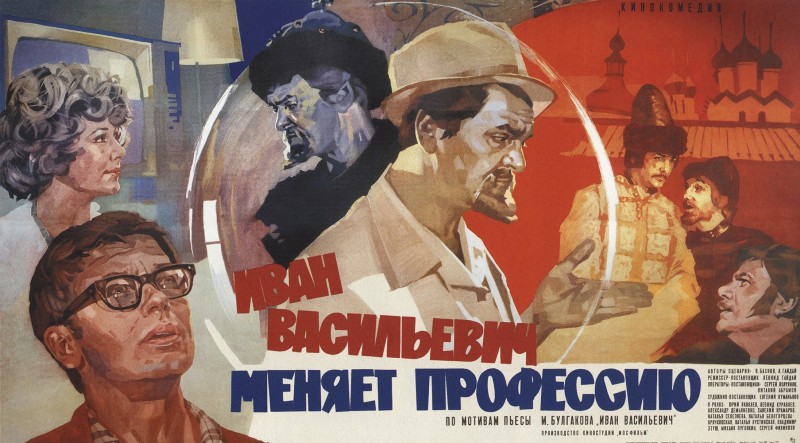 Original poster from 1973
News archives


Install our free app
on your smartphone
Films and TV-series

Along with much information on the novel, you will also find on this website different film adaptations of The Master and Margarita, subtitled in English by your webmaster.
Navigation