The Days of the Turbins
June 1, 2017
In our constant concern to make the works of Mikhail Bulgakov accessible to a wide audience, we have discovered a new pearl: the film The Days of the Turbins, made in 1976 by the Russian director Vladimir Basov, based on the same-name play by Mikhail Bulgakov.
In 1924, Bulgakov had written The White Guard, a novel in which he described the life of the Turbin family during the Russian Civil War in Ukraine in the winter of 1918-1919. Shortly thereafter, the Moscow Art Theater asked Bulgakov to make a stage adaptation of The White Guard. On October 5, 1926, the piece was premiered under the title The Days of the Turbins, directed by the legendary Konstantin Stanislavsky.
Despite the fact that Bulgakov showed a lot of sympathy for the White Army in The Days of the Turbins, it would have been one of Josef Stalin's favourite theatre pieces. According to the Russian literary critic Viktor Petelin (°1929) he would have seen it 15 times, although other sources consider this a myth. Anyway, still today, it is part of the standard repertoires of some twenty Russian theaters.
In 1976, the Soviet state television asked director Vladimir Basov to make a screen adaptation of The Days of the Turbins. He made a series of three episodes which featured some of the most renowned actors of that time. One of them is Oleg Basilashvili, who would play the role of Woland in the TV series The Master and Margarita by Vladimir Bortko 30 years later.
On June 15, 2017, this website will launch The Days of the Turbins on DVD, with subtitles in English, French, and Dutch. It will be available at the site's web shop at a price of 39,99 €.
Click here to watch an excerpt or to order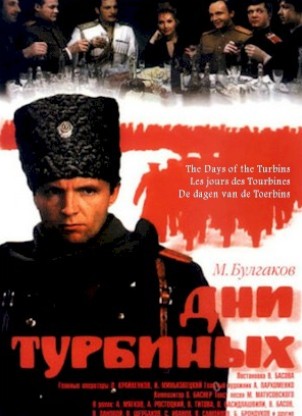 The Days of the Turbins
News archives


Install our free app
on your smartphone
Films and TV-series

Along with much information on the novel, you will also find on this website different film adaptations of The Master and Margarita, subtitled in English by your webmaster.
Navigation