Субтитры к фильму «Cuore di cane» (Собачье сердце)
25 июля 1017 г.
In 1976, eleven years before the novel Heart of a Dog by Mikhail Bulgakov was published for the first time in the Soviet Union, and twelve years before Vladimir Bortko adapted the story into a highly acclaimed mini-series, the Italian director Alberto Lattuadda had already made a film of it.
Cuore di cane is a German-Italian co-production, which has never been succesful in its German version, though. That could be due to the rather strange choice of the title: Warum bellt Herr Bobikow? or Why does Mister Bobikov bark? In Russia, Cuore di cane has never been released. Initially, this was due to the fact that director Lattuadda represents Bulgakov's satire of the Soviet regime very faithfully, which was not appreciated in the time of Brezhnev. Later, the film had to compete with the above-mentioned mini-series by Vladimir Bortko. However, Cuore di cane compares favourably with Bortko's adaptation, as evidenced by the number of Russian-dubbed versions that can be found on the internet. Unfortunately, all of them have got poor image quality. Bortko himself must have been impressed by Cuore di cane. For his own mini-series, he rejected very well-known actors like Kirill Lavrov (Pilate in his own version of Master i Margarita) and Mikhail Ulyanov (Pilate in Yuri Kara's Master i Margarita) for the role of professor Preobrazhensky. He preferred Yevgeni Yevstigneev, who, both in appearance and performance, strongly reminds of the role played by the Swedish actor Max von Sydow 12 years earlier in Cuore di Cane.
Cuore di Cane was highly praised for the acting performances, by the way. Not only for Max von Sydow as professor Preobrazhensky, but also for the performances of Mario Adorf (Doctor Bormenthal) and Cochi Ponzoni (Bobikov), and certainly for the work of dog trainer Luciano Spinelli, who prepared the dog Whisky to leave an unforgettable mark. For the trivia: a tiny supporting role was given to the then 26-years old Italian-Hungarian actress Ilona Staller. Many years - and many breast implants - later, she would become notorious in the porn industry as Cicciolina, and got even elected to the Italian parliament in 1987.
Since the start of our subtitle project, seven years ago, it was our fervent wish to include this film in our offer. However, it was almost impossible to find a quality original version. Thanks to the help of some Italian and Russian visitors of the Master & Margarita website, we got one now, and we are therefore very pleased to offer you this opportunity.

Voorbestellingen
We are making subtitles for Cuore dei cane in Dutch, English, French, Spanish and, for the first time in our project, also in Russian. The subtitles will be ready on August 15, 2017. From then on, the DVD will be available in our webshop at 29.99 €.
As a visitor of this website, you can pre-order your copy with a discount. If you order before August 10, 2017, you can have the DVD at 19,99 €, of course with no costs for packing and shipping. The shipments will start on August 15, 2017.
Click here to watch the trailer or to order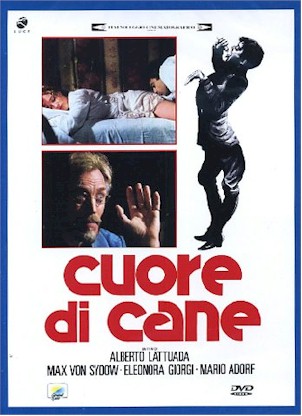 #bulgakov #булгаков #cuoredicane #dogsheart #собачьесердце
Архивы новостей


Установите нашу прило-
жение для смартфона
Фильмы и сериалы

Наряду с разнообразной информацией о романе вы найдете на этом сайте несколько версий фильма Мастер и Маргарита, с субтитрами на недерландском языке, выполненными вашим веб-мастером.
Навигация