Release of Yuri Kara's film
November 16, 2010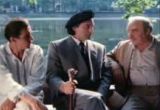 March, 3, 2011 will see the general release of the screen version of The Master and Margarita directed by Yuri Kara.
The film cannot be mentioned as a new one - the picture had been shelved for over 15 years - and it will finally be shown to viewers for the first time. The rights for release have been acquired by Luxor Company. Luxor Company's PR director Olga Granovsky informed that negotiations with the film producer Vladimir Skory had lasted for some years, and the film screening had been hampered due to claims of Sergey Shilovsky, a descendant of Bulgakov's third wife.
Wide audience will be shown a two-hour version of the film, whereas the director's full three-hour version will be available on DVDs to be distributed by Luxor Company as well.
The screen version features stars of Russian cinema, such as Anastasiya Vertinskaya, Mikhail Ulyanov, Nikolay Burlyaev, Valentin Gaft and others.
Pre-screening of The Master and Margarita for media, film authors and actors will take place in late November. Yuri Kara, however, still cannot believe that his film created back in 1994 will finally be seen by viewers. "You know, I will not believe it until I see the cinema schedules", the film director said.
Visitors of this website know Yuti Kara's film since a long time already. It's available on DVD in our e-Store with English, French and Dutch subtitles since April 2010.
Click here to read the page on Yuri Kara