The Master and Margarita on BBC 3
March 12, 2015
Next Sunday, on March 15, 2015, at 22:00 GMT, the British station BBC Radio 3 will broadcast The Master and Margarita.
Producer Sasha Yevtushenko presents a fine selection of British actors, among which Anne-Marie Duff as Margarita, Paul Ready as the master, and Anton Lesser as Woland in an adaptation of the novel by Lucy Catherine.
One of the reasons to listen to this play is the fact that composer Stephen Warbeck wrote an original soundtrack for this show, and that he will perform it himself, along with five other musicians. Warbeck got known as a composer of soundtracks by the music he wrote for the British TV series Prime Suspect, with Hellen Mirren in the title role, and later by the Academy Award he won for the soundtrack of the film Shakespeare in Love. Later, he would write the soundtracks for films like A Christmas Carol, Captain Corelli's Mandolin and the Belgian film The Alzheimer Case, and also for the TV series A Young Doctor's Notebook, inspired by the stories written by Bulgakov, starring Daniel Radcliffe and Jon Hamm.
Click here to read more about the music by Stephen Warbeck
You can listen to The Master and Margarita online on the website of BBC Radio 3 on Sunday, March 15, 2015 at 22:00 GMT.
Click here to listen to the programme
Did you miss the show on March 15? Don't worry. With the link above, you can still listen to it until April 15, 2015.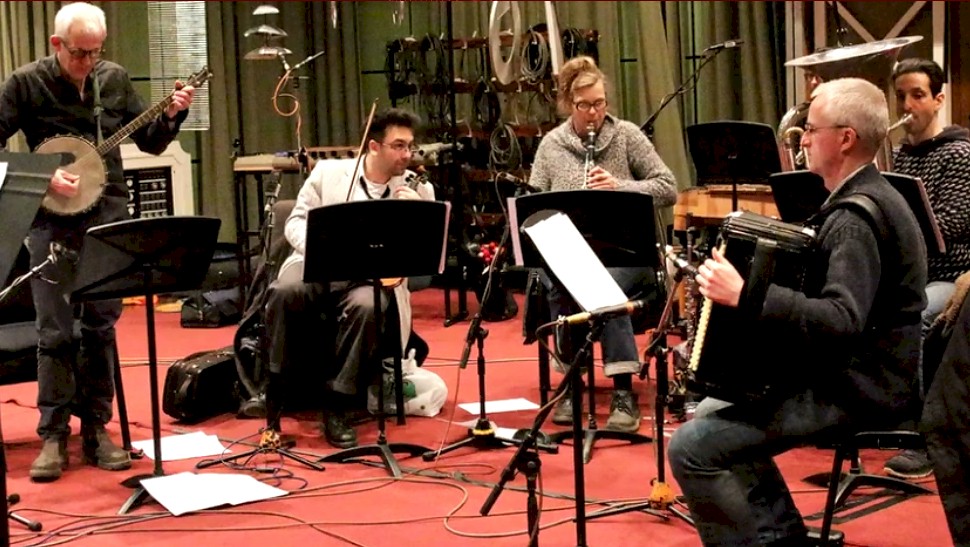 Stephen Warbeck (left) with his musicians
News archives


Install our free app
on your smartphone
Films and TV-series

Along with much information on the novel, you will also find on this website different film adaptations of The Master and Margarita, subtitled in English by your webmaster.
Navigation