Mural in Gothenburg
July 28, 2015
Today, we added to this website a page on the illustrations made by the Swedish artist Jan Persson for The Master and Margarita in 1995.
It's a rather unreal experience to drive to the east of Gothenburg, Sweden, through a large and gloomy industrial area, and to suddenly arrive at the Bergsjön Center, a residential area at the edge of a forest, built in 1970, where mainly «new Swedes» are living and where you can find a long mural drawing with illustrations of The Master and Margarita on the wall of a supermarket.
Probably, only few of the 15,700 inhabitants of this city district, representing about 140 different nationalities, will know who Mikhail Bulgakov was, let alone that they would have read The Master and Margarita. And yet, they are familiar with the characters of the novel, since most of them come along this colourful fresco of 2.5 meters high and 55 meters long on the wall of the local ICA supermarket at the marketplace Rymdtorget every day.
Click here to read more about it and to watch the illustrations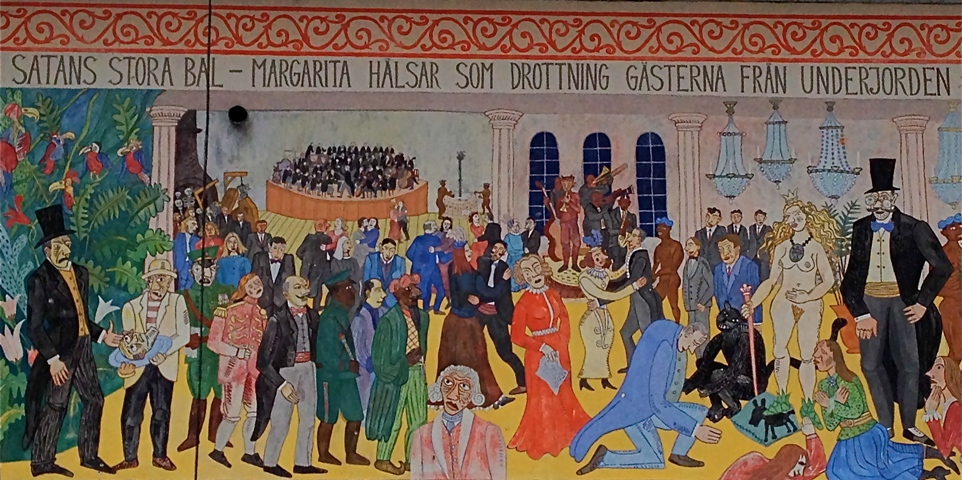 The Great Ball at Satan's by Jan Persson
News archives


Install our free app
on your smartphone
Films and TV-series

Along with much information on the novel, you will also find on this website different film adaptations of The Master and Margarita, subtitled in English by your webmaster.
Navigation