The Master and Margarita on Google Live
August 31, 2016
The year 2016 is not only the year in which we celebrate the 125th birthday of Mikhail Afanasievich Bulgakov. In November, 2016, we will also commemorate that, 50 years ago, The Master and Margarita was first published - albeit heavily censored - in the literary magazine Moskva.
For this occasion, the internet service Google, the Mosfilm filmstudio and the Museum M.A. Bulgakov, one of the two Bulgakov museums in Bolshaya Sadovaya 10 in Moscow, are preparing a Google Live online reading of The Master and Margarita, which will be held on November 11 and 12, 2016, and broadcast live on YouTube.
Google Live hosted already similar readings in the past. In 2014, there was a 3-days online reading of Anna Karenina by Lev Tolstoy, and in 2015, there was an online reading of short stories by Anton Chekhov in collaboration with the Moscow Art Theater.
The Master and Margarita will be streamed from different Russian cities, including Moscow and Vladivostok, as well as from Tel Aviv, as the biblical parts of the novel are situated in ancient Palestine. On the website Russia Between the Headlines, Google representative Alla Zabrovskaya  said: «We expect about 500 people will participate in the readings. 350 of them will be ordinary internet users and the rest will be well-known public figures from theater, cinema, politics and sports».
The online live stream on YouTube will use the latest technology. Google's new 360° format will be used for the first time on such a large scale in Russia. It allows the viewer to change the camera angle and see what is around the narrator. With the help of chroma key (green screen), the directors will surround the narrators with Bulgakov's virtual dream world. All these special effects will help viewers go deeper into the novel.

Auditions
Would you want to participate to this project? Anyone interested can audition to be a narrator for a part of the novel. Yesterday, August 30, 2016, Google launched the website Мастер и Маргарита: я там был  [Master i Margarita: ya tam byl] or The Master and Margarita: I was there, where you can chat in Russian with Koroviev and Behemoth.
After a short conversation, they will decide which of the novel's locations suits you the most and teleport you there. It could be Margarita's mansion, the mental hospital of Doctor Stravinsky, Satan's ballroom, the rooftop of the Pashkov House, or another place. The backgrounds of those places have been designed by Ralph Peskett, Senior Designer of the London based digital design agency Phantom.
When you arrived at your location, you will be invited to an audition, and you can make a short video reading an excerpt of the novel. The application deadline is October 5, 2016. Theatre director Natalia Anastasieva will oversee the casting and will train the narrators.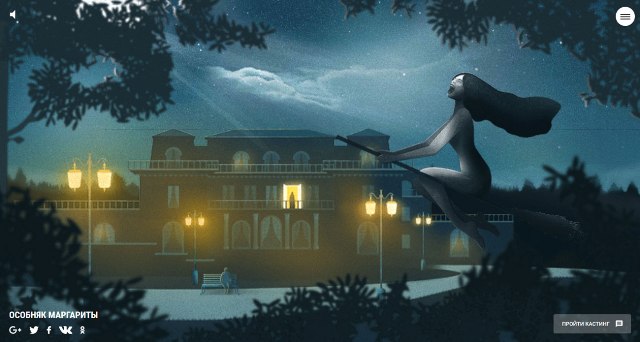 Margarita's mansion, one of the possible locations - design: Ralph Peskett