Роман Онно Босмы
14 сентября 2011 г.
Tomorrow, the Dutch writer Onno Bosma wil present his novel De verzoeking van Johan Metsiers (The Temptation of Johan Metsiers) in Amsterdam.
We haven't read the book yet, but the author has informed us that his debut novel was partly inspired by The Master and Margarita. To begin with, there is the motto of the novel: "Never talk to strangers". Moreover, an important character in the book is acting under the name Nick Alldown. Besides the fact that his surname is an anagram of Woland, this figure apparently has had some 'adventures in Moscow ". He leads the title character Johan Metsiers into emotional confrontations with his beloved Marijke. And then there's the Circus Diabolo which will surprise you with a breathtaking performance.
"My novel is partly inspired by The Master and Margarita," the author told us, "though I will not get any ideas about competing with Bulgakov." Anyway, he succeeded in catching our attention...
The book will be presented on Thursday, September 15, 2011, at 19:30 in the Felix Meritis building, Keizersgracht 324 in Amsterdam. In a panel discussion led by journalist Max Weezel various themes from the novel will be discussed: populism, the position of migrants and the betrayal of the elites.
Title
De verzoeking van Johan Metsiers
(The Temptation of Johan Metsiers)
Author
Onno Bosma
Publisher
De Arbeiderspers, Amsterdam
ISBN 9789029576093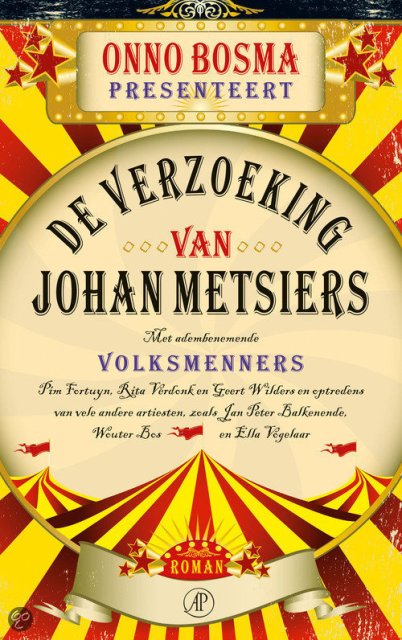 Click here to read more about it