Булгаков и Сталин в вашем районе
10 ноября 2011 г.
From November 4, 2011 to January 21,2012, the theatre play Collaborators is staged at the National Theatre in London. The piece, written by John Hodge (Trainspotting), shows an encounter between Joseph Stalin and Mikhail Bulgakov, where the two men have swapped jobs: Bulgakov is leading the country and Stalin is trying to write a play.
The great acting performances turns this wonderful theatre play into an investigation of terror. Jacqueline Defferary plays the wife of Bulgakov, becoming increasingly desperate, Mark Addy is the man of the NKVD, and Alex Jennings and Simon Russell Beale are just brilliant in the roles of Mikhail Bulgakov and Joseph Stalin.

In your neighbourhood
You don't need to travel to London if you want to see the play. You can watch it on Thursday, December 1, 2011 in a cinema theatre near you. As part of the NT Live project, the live programme of the National Theatre, Collaborators will be broadcast live by satellite in High Definition in hundreds of cinema theatres around the world.
In the United States, the play will be broadcast a second time in select AMC locations on Thursday, December 8, 2011.
In the 9 Belgian cinema theatres, a drink would be offered to those who are present at 19:30.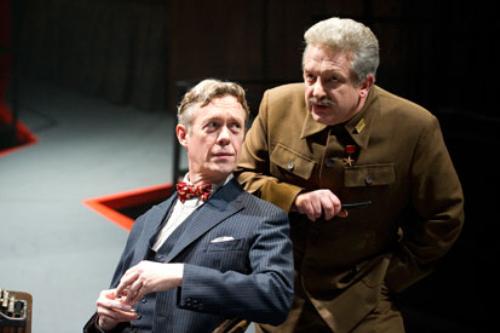 Thursday, December 1, 2011
Welcome at 19:30 CEST, film at 20:.00 CEST

Tickets
Tickets for Kinepolis (Belgium - 9 cinema theatres)
Tickets for Pathé (The Netherlands - Den Haag)
Tickets for CineMec (The Netherlands - Ede)

Cinema theatres worldwide
List of all cinema theatres worldwide