Выставка Арина Орлова
15 мая 2012 г.
Moscow is full this week of celebrations to mark the birthday of Mikhail Bulgakov. It is not surprising that The Master and Margarita attracts much attention. Next Thursday, May 17, 2012, the M.N. Ermolova Museum on Tverskoy Boulevard organises a theme evening on Bulgakov's famous masterpiece with theater producers, performers and critics.
In our opinion, the highlight of the evening is an exhibition of illustrations which Arina Orlova made ​​for The Master and Margarita. The regular visitors of this site know these illustrations already, of course, but now the originals can be admired.

Exhibition Arina Orlova
Thursday, May 17, 2012 - from 19:00
Museum M. N. Ermolova  
Tverskoy Boulevard, 11
123104 Moscow

Tel.: (495) 690-54-16, (495) 690-49-01
Metro Tverskaya, Pushkin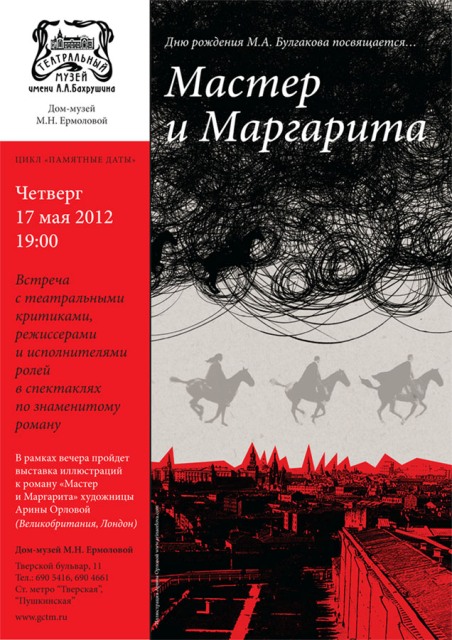 Click here to see Arina Orlova's illustrations on this website
Click here to visit the website of the M.N. Ermolova Museum
Click here to visit Arina Orlova's website