День города в Москве
2 сентября 2014 г.
On Saturday, September 6, 2014, Moscow will have its День города (Dyen goroda) or Day of the City. Hundreds of activities are planned throughout the city and in all the parks, but the Bulgakov lovers will certainly focus on the Patriarch's Pond and its surroundings where, from 13:00 to 22:30, a Bulgakov Festival will be held.
From 13:00 on, the visitors will be immersed in the atmosphere of Bulgakov's time. All along the Ponds, book sellers, retro photo shops and vintage stores will sell attributes of a bygone era, while fanfares and a jazz band will provide a musical accompaniment from the 30s.
At 19:00 the Patriarch's Ponds will be transformed into a huge stage for Опера на воде (Opera na vodye) or Opera on the Water, a gala concert with Hibla Gerzmava, soloist of the Moscow Stanislavsky and Nemirovich-Danchenko Musical Theater. She will be accompanied by the Persimfans orchestra under the direction of Gregory and Peter Krotenko, and a chamber ensemble led by violinist Elena Revich and cellist Boris Andrianov. The concert will end with a fireworks to the sound of Fireworks Music written by Paul Karmanova.
During the day, both the Bulgakov House and the Museum M.A. Bulgakov organise several tours on foot and by bus along the locations of The Master and Margarita.
Day of the City at the Bulgakov House
Day of the City at the Museum M.A. Bulgakov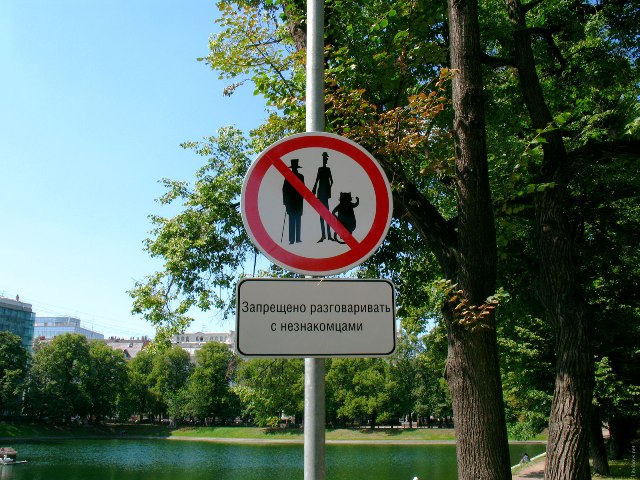 Never Talk with Strangers on the Patriarch's Ponds in Moscow
Архивы новостей


Установите нашу прило-
жение для смартфона
Фильмы и сериалы

Along with much information on the novel, you will also find on this website different film adaptations of The Master and Margarita, subtitled in English by your webmaster.
Навигация