Игорь Корнелюк - Мастер и Маргарита
Русский > Виртуальный магазин > Музыка > Игорь Корнелюк
CD
Now you can enjoy the overwhelming soundtrack of the most successful Russian TV-series ever.

Игорь Корнелюк - Мастер и Маргарита - Саундтрек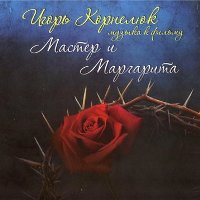 The complete soundtrack of the film The Master and Marga-rita by Vladimir Bortko. This soundtrack was almost enti-rely composed by Igor Kornelyuk, but contains also music written by Dmitri Lensky and Nikolai Rimsky-Korsakov.
CD - 14.99 € Click here to order


Список композиций
01. The Master and Margarita
02. Woland's theme
03. Sheherazade (*)
04. Frühlingsstimmen (**)
05. Maestro! Hack out a march!' (***)
06. Love leaped out in front of us
07. Do you like my flowers?
08. The Execution
09. Azazello's Cream
10. Invisible and free
11. Waltz
12. Sabbath
13. The Great Ball at Satan's
14. Garden of Gethsemane
15. Even the moon gives him no peace
16. More about love
Total time: 73 min. All tracks composed by Igor Kornelyuk, except :
(*) Nikolai Rimsky-Korsakov
Sheherazade (symphonic suite) - I. The Sea and Sinbad's Ship
(**) Johann Strauss Jr.
Frühlingsstimmen - Waltz in B-flat major
(***) Dmitri Lensky
Lev Gurych Sinichkin (vaudeville) - His Excellency
Каталог музыки
Другие каталоги
Слушайте музыку
Here you can listen to some excerpts
Woland's Theme
Sheherazade
The Waltz
More about love
Обеспеченные платежей



Pay safely on this website with your preferred credit card or with your PayPal account.
Оплата без кредитной карты
If you can't or do not wish to pay by credit card, we can send you our data to pay with a regular bank transfer.