Vinz Aquarian - Diavoleide
Nederlands > Adaptaties > Muziek > Andere muziek > Vinz Aquarian
Vinz Aquarian is één van de schuilnamen van Vincenzo Auteri (°1976), die geboren werd in Catania, Sicilië, maar nu in Wenen, Oostenrijk, verblijft. Hij kreeg zijn opleiding aan het Liceo Classico Mario Cutelli in Catania.
Hij zong en speelde basgitaar, keyboards en syntheziser in bands als Calle della Morte en Il Ballo delle Castagne. Eerst was zijn muziek sterk beïnvloed door new wave en garage rock, later evolueerde hij in de richting van de experimentele en elektronische muziek.
In juli 2015 bracht Vinz Aquarian het album Diavoleide uit met nummers geïnspireerd door De meester en Margarita. De ondertitel luidt Music To Displease Certain People I Know. Naast de digitale media werd van het album een vinyl versie geperst op 10 exemplaren. Deze laatste versie bevat een extra track met de titel La Strada Del Male of De weg van het kwaad.
Audio
Vinz Aquarian - The Chase
Technische fiche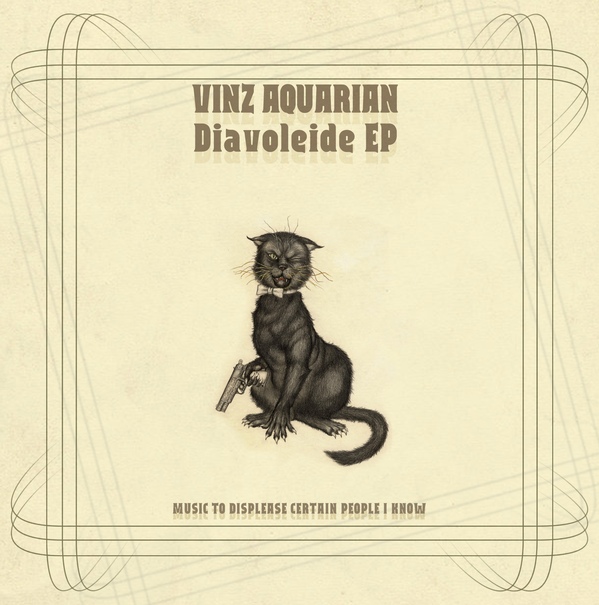 Album
Diavoleide
Music To Displease Certain People I Know
Muzikanten
Aimaproject - Zang in Hymn to Woland
Euski - Zang in Don't loose your head
Roberto Lucanato - Electrische gitaar in The Chase
Tracks
Hymn To Woland 1:45
Don't Lose Your Head 3:32
Schizophrenia, As Was Said 2:50
The Chase 2:13
Diavoleide 1:57
Label
Hau Ruck! SPQR - 2015