Simon Nabatov - The Master and Margarita
Nederlands > Adaptaties > Muziek > Andere muziek > Simon Nabatov
Simon Nabatov is geboren in Moskou maar in 1979, toen hij 20 jaar oud was, emigreerde zijn familie naar New York. Daar studeerde hij aan de Juilliard School of Music en ontstond ook zijn belangstelling voor jazz en geïmproviseerde muziek. Sinds 1989 woont hij in Keulen en treedt hij vaak op als jazzpianist in verschillende samenstellingen.
In 1997 werd Simon Nabatov door de NDR Hamburg gevraagd om een compositie te maken gebaseerd op een werk uit de klassieke Russische literatuur. Hij koos voor De meester en Margarita. Het resultaat was een 10-delige suite die de verhaallijn van de roman volgt. De basislijn lag vast, maar er was ook ruimte voor de muzikanten om vrij te associëren. Het werd uitgevoerd door een quintet dat er een Europese tournee mee deed in oktober 1997. In 1999 werd het opgenomen voor de WDR in Keulen, en in 2001 werd een dubbel-cd uitgebracht.
Technische fiche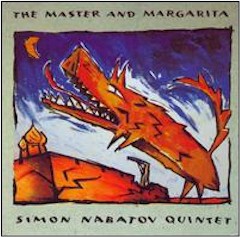 Album
The Master and Margarita (2 CD)
Uitvoerders
Mark Helias (Bas)
Herb Robertson (Trompet)
Simon Nabatov (Piano)
Mark Feldman (Viool)
Tom Rainey (Drums)
Label
Léo, 2001
ASIN
B00005RDEE
Speellijst
Simon Nabatov - Don't Talk To Strangers
Simon Nabatov - Some Restaurant
Simon Nabatov - As Diagnosed...
Simon Nabatov - One Of Four
Simon Nabatov - The Master
Simon Nabatov - The Show
Simon Nabatov - The Last Days
Simon Nabatov - Margarita
Simon Nabatov - Big Decision
Simon Nabatov - Ball - Back Home