Гуиллаум Галлиен
Русский > Роман > Интерпретации > Гуиллаум Галлиен
Guillaume Gallienne is the weekly host of Ça peut pas faire de mal, a program which is aired, since 2009, on Saturday evenings from 18:10 to 19:00 on the French radio station France Inter.
In this programme, Galliene reads excerpts from literary works, which are interspersed with adapted music and sound clips and testimonials from people who know the book of the day quite well.
In this programme from November 24, 2012, he's reading fragments from the chapters 1, 12, 20 en 32 of The Master and Margarita. We can also hear the voices of Aleksandar Petrović, the Serbian director of the film Il Maestro e Margherita from 1972, and Simon McBurney, widely acclaimed in 2012 with his stage adaptation of the novel.
As musical intermezzos, Gallienne chose the song La Java du diable by Charles Trenet, and Margarita's Aria from the opera La Damnation de Faust by composer Hector Berlioz, sung by Elina Garanca.


Guillaume Gallienne - Le maître et Marguerite [fr]
Listen to the conversation - 45' 52''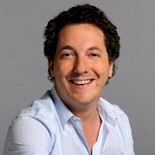 Авторы
Ваш гид по роману

В этом разделе даются пояснения к встречающим-ся в романе понятиям, име-нам людей, местам дейст-вия, цитатам и выражениям в рамках политического, социального, экономичес-кого и культурного контекста, в котором создавался роман.
Москва Булгакова

Здесь Вы можете увидеть важнейшие места действия романа. Для этого доста-точно нажать на выделен-ные места на карте.