Margarita Adjani
English > Characters > Main characters > Margarita > Favourites > Margarita Adjani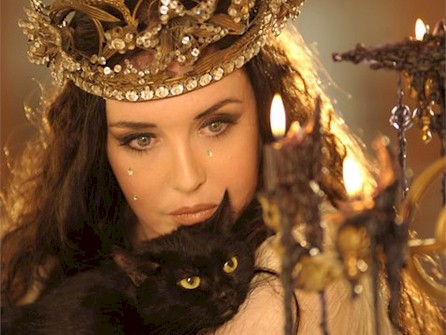 In 2008, the French actress Isabel Adjani was chosen by the Russian businessman Evgeny Yakovlev to impersonate Margarita in a series of photographs for the exhibition Le Maître et Marguerite, Création Photographique, which was accomplished by the French photographer Jean Daniel Lorieux. The exhibition was so successful in Paris that it was extended. Then it moved to Moscow, where it was opened by the actor Alain Delon.
On the shooting on streets, parks and hotels of Moscow, queen Margot became the great loving Margarita. "Adjani did not want us to make corrections on these pictures", explains the initiator of the project. "She said to me that it were the best photographs of her life. "
And indeed, the magnetism of her look and the expression of the face show the talents of a great actress.
Favourites
Choose your favourite Margarita
How did your Margarita look when you read The Master and Margarita for the first time? Was there any resemblance with one of the Margarita's presented here? Or not? If you want to share your favourite Margarita with the visitors of this site, send a photo of minimum 800 x 600 pixels and don't forget to tell why she is the one and only.