Margarita Kovalchuk
English > Characters > Main characters > Margarita > Favourites > Margarita Kovalchuk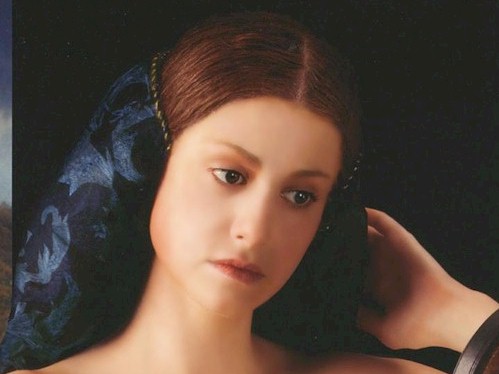 It's a pity that I don't know actress Anna Kovaltchuk in person. But to me she's the ultimate Margarita, the one who fits best with my impression of Margarita in the novel. She's thirty years old, born in Neustrelitz in the former East-Germany.
When, in 2000, director Vladimir Bortko was asked for the first time by the Kino-Most film studio to film The Master and Margarita, he initially thought of actress Galina Tyunina for the role of Margarita. Four years later, when the project with Telekanal Rossiya was taking shape, there were, besides Anna Kovalchuk, more possible candidates like Ingeborga Dapkunaitye and Viktoria Tolstoganova. Fortunately the director's choice was Anna Kovalchuk. He found her at the Lensoveta Theatre in Saint-Petersburg. "To me it is not important whether she's famous or not, what counts is that she corresponds to my image of Margarita", Bortko said. And he stopped the auditions when he had seen Anna Kovalchuk. Good boy!

Favourites
Choose your favourite Margarita
How did your Margarita look when you read The Master and Margarita for the first time? Was there any resemblance with one of the Margarita's presented here? Or not? If you want to share your favourite Margarita with the visitors of this site, send a photo of minimum 800 x 600 pixels and don't forget to tell why she is the one and only.