Fuete - Vladimir Vasilyev and Boris Yermolaev
English > Adaptations > Films > Feature films > Vasilyev and Yermolaev
The film Fuete was made in 1986 by the Russian director Boris Vladimirovich Yermolaev (°1938) and choreographer Vladimir Vasilyev Viktorovich (°1940). It doesn't tell the story of the novel by Mikhail Bulgakov, but everything revolves around a ballet performance of The Master and Margarita, which is based on the novel.
In a large theatre in Leningrad, everything is ready for the ballet The Master and Margarita. All roles are assigned, the talented dancer Yelena Knyazeva gets the role of Margarita. But the choreographer suddenly changes his plans and gives the role to a young debutante. Knyazeva reluctantly becomes a mentor for the young dancer and works with her to create a good image of Margarita. The relationship between teacher and student is not so easy, the two talented people have hard to find common language and a constant rivalry between both can be felt. But the premiere of The Master and Margarita will take place.
The story of the film is interwoven with scenes of the master, Pilate, Margarita, biblical motifs, ideas which are not realised, tenderness and despair.
In the film we can see the famous Russian actor Valentin Gaft in the role of a poet. Gaft has got something to do with The Master and Margarita, as he would later play the role of Woland in the film of Yuri Kara (1994), and Kaifa in the TV series by Vladimir Bortko (2005).
The role of dancer Yelena Knyazeva is played by the famous ballerina Yekaterina Maksimova (1939-2009). She was for many years, from 1958 to 1980, star dancer of the Bolshoi Theatre in Moscow, where she often danced with her husband Vladimir Vasilyev, the choreographer and co-director of this film, and from 1995 to 2000 General and artistic director of the Bolshoi Theatre.
Technical details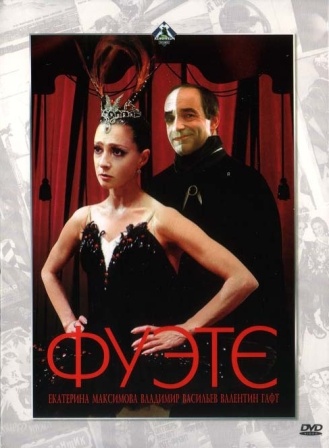 Media
DVD

Directors
Vladimir Vasilyev and Boris Yermolaev
Actors
Yekaterina Maksimova, Vladimir Vasilyev, Natalia Bolshakova, Angelina Kabarova, Valentin Gaft, Yelena Dmitryeva, Konstantin Zaklinsky, Alla Osipenko, Olga Samoshi-na, Aristarque Livanov, Svyatoslav Kuznetsov, Maria Bergholz, Yevgeny Kolobov
Release date
1986
Time
100 minutes
Languages
Russian
Subtitles
None