Igor Kornelyuk - Master i Margarita
English > Adaptations > Music > Soundtracks > Igor Kornelyuk
Igor Yevgenevich Kornelyuk (°1962) started to study music in the local music school of Brest, Belarus, when he was 6 years old. When he was 12, he played keyboards in the ensemble of the Palace of Dance Culture in Brest.
In 1978, Igor Kornelyuk moved to Leningrad to study at the Music School of the Nikolay Rimsky-Korsakov Conservatory. He graduated in 1982, and began to study at the Composition Department of the same institution. There he got his degree in 1987. While he was still a student, he worked as a conductor and composer for the Buff Theatre in Leningrad.
His professional career began in 1988 when he reached the finals of the television show Song of the Year with his song Билет на балет [Bilyet na Balyet] or Tickets For The Ballet.
Igor Kornelyuk wrote more than 200 popular songs, many of which were recorded by popular Russian singers like Mikhail Boyarsky, Anne Veski, Edita Piecha and Philipp Kirkorov, and he wrote the soundtracks for some of the most successful Russian movies and TV series, of which most were directed by Vladimir Bortko: Gangsters of Petersburg, The Idiot, The Master and Margarita and Taras Bulba
Originally, the soundtrack for the TV series The Master and Margarita was commissioned to composer Andrei Petrov (1930-2006), but those plans were changed. Of course, we will never now how it would have looked like with the music of Petrov, but the music of Kornelyuk certainly contributed to the success of the TV series.
Since director Vladimir Bortko wanted to remain faithful to the novel, he used, in addition to the music of Igor Kornelyuk, other music which Mikhail Bulgakov describes in The Master and Margarita. So in the soundtrack of the TV series we can also listen to works of Nikolay Rimsky-Korsakov (Scheherazade), Johann Strauss Jr. (Frühlingsstimmen) and Dmitri Lensky (His Excellency).
Igor Kornelyuk in the Webshop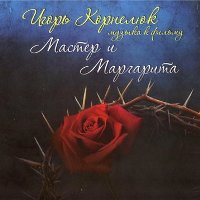 The soundtrack of composer Igor Kornelyuk is available on CD in our shop. You can order it by clicking the link below. On the CD you will also find the music by Nikolay Rimsky-Korsakov, Dmitri Lensky and Johann Strauss Jr. which was used in the TV series.
Igor Kornelyuk - Master i Margarita
Here you can listen to some excerpts of the soundtrack by composer Igor Kornelyuk.
Igor Kornelyuk - Woland's Theme
Igor Kornelyuk - The Waltz
Igor Kornelyuk - More About Love