Куартетто Минимо - Мастер и Маргарита
Русский > Адаптация > Музыка > Другие музыкальные стили > Куартетто Минимо
The Quartetto Minimo is a jazz band founded by the Greek-Spanish guitarist Nico Arzimanoglou, the French-Colombian guitarist Sébastien Spang, and the Franco-Spanish brothers Eliaz and Ilan Hercelin who play the bass and the drums, respectively. Since their first meeting in the Spring of 2009, the band has played their own compositions, and since then they have not stopped.
All four members live in Spain, between Madrid and Guadalajara, and are an active part of the Madrid's jazz scene.
With their first album, recorded in 2011, Quartetto Minimo won the first prize at a Spanish Youth National Contest organised by the Instituto De La Juventud (Injuve), which enabled them to play on some notorious Spanish Jazz Festivals and some concerts abroad.
In 2013, Quartetto Minimo released the album Pomelö, with the songs Le maître et Marguerite, Azazello and Behemoth, all three inspired by Mikhail Bulgakov's The Master and Margarita.
Аудио
Quartetto Minimo - Le maître et Marguerite
Quartetto Minimo - Behemoth
Технические детали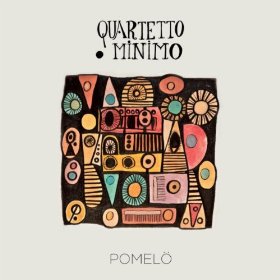 Album
Pomelö
Musicians
Nico Arzimanoglou - guitar
Sébastien Spang - guitar
Eliaz Hercelin - bass
Ilan Hercelin - drums
Tracks
Le maître et Marguerite - 6' 42''
Azazello - 7' 47''
Behemoth - 6' 06''
Released
June 23, 2013
Website
Link to the website of Quartetto Minimo
Link to the Facebook page of Quartetto Minimo