Вадим Егоров - Патриаршие пруды
Русский > Адаптация > Музыка > Русские барды > Вадим Егоров
Мы продолжаем напряженно работать, чтобы улучшить наш сайт и перевести его на другие языки. Русская версия этой страницы еще не совсем готова. Поэтому мы представляем здесь пока английскую версию. Мы благодарим вас за понимание.
Vadim Vladimirovich Yegorov (° Eberwalde, 05/07/1947) is a Russian poet, songwriter and singer, born in the former GDR. In 1949, when he was two years old, he moved to Moscow along with his parents, where he graduated in 1969 in the Russian language and literature at the V.I. Lenin State Institute of Pedagogy. Then he started a career at the Institute of Corrective Pedagogy, where he would, until 1996, conduct research aboutt the learning difficulties of children with mental or physical disabilities, and publish scientific articles about it. Meanwhile, he also obtained a PhD in Psychology in 1976.
Since 1961, Yegorov writes poetry and songs, and accompanies himself on guitar and piano. He got a firm place in the line of other Russian bards like Bulat Okudzyava, the famous poet of the Arbat.
Yegorov wrote over 500 songs and poems, collected in five poetry books and eleven albums. He toured regularly in the United States, Europe and Australia.
His song Патриаршие пруды (Patriarshiye Prudy) or The Patriarch's Ponds appeared on his CD Я Вас люблю мои дожди (Ya vas lyublyu moy dozhdi) or I love you, my sprinkle in 1995. He describes the charm which emanates from the Patriarch's Ponds, but is also afraid that it might disappear under the pressure of commercial interests. He therefore calls on the help of Woland, Margarita and Behemoth. And in the end, he warns those who want to destroy this place: "Think of the oil which Annushka spilled ".
Аудио
Вадим Егоров – Патриаршие пруды
Технические детали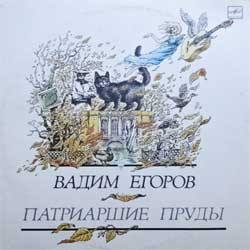 Album
Я Вас люблю мои дожди (1995)
Musicians
Вадим Егоров
Label
Вадим Егоров
Website
Link to the website of Vadim Yegorov