Adriano - Obscure Saraband
English > Adaptations > Music > Classical music > Adriano
Adriano (°1944) is a Swiss conductor who wants to be known by his first name only. So, although we know his full name, we will continue calling him just Adriano.
Before embracing a career in music, his field of study had been architecture and the dramatic arts, the latter leading to his appearance on stage as an actor and a pantomime artist. In the early 1970s Adriano founded and directed a chamber group with whom he collaborated as a stage music composer, actor and writer of avant-garde plays.
Adriano is an authority on film music and is engaged in the rediscovery of forgotten scores by renowned composers. He conducted the re-recording of quite some famous film scores like the soundtrack by Arthur Honegger for Raymond Bernard's Les Misérables and the soundtrack by Franz Waxman for Alfred Hitchcock's Rebecca with the Bratislava Symphony Orchestra.
In total, Adriano recorded already more than 45 CD's, half of which were recorded with the Bratislava Symphony Orchestra, the rest with the Moscow Symphony Orchestra. In July 2014 though, Adriano wrote a bitter manifesto called Farewell to Moscow, in which he announced that he would no longer travel to Moscow because of the anti-gay propaganda laws and and other freedom restrictions issued by the Putin regime.
Click here to read Adriano's manifesto
In 2003, Adriano composed Obscure Saraband, an orchestral piece inspired by Woland's Ball from The Master and Margarita. In 2011 it was released on the CD Orchestral Works.
Audio
Adriano - Obscure Saraband

Technical details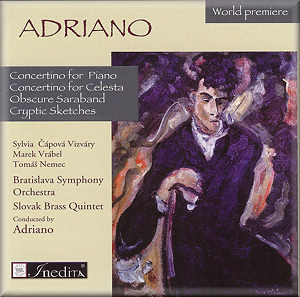 Album
Orchestral works
Artists
Adriano (Conductor)
The Moscow Symphony Orchestra
Release date
March 24, 2011

Label
Inedita
Catalogue No. PI2743
Barcode No. 8051827067433
Website