R.M. Isaiah - Master and Margarita
Français > Adaptations > Musique > Rock & Roll > R.M. Isaiah
R.M. Isaiah est un chanteur et compositeur de San Fransisco, California. Je n'ai pas beaucoup d'information sur lui, sauf qu'il joue la basse, la guitare acoustique et les claviers.
Avec Craig Vail il forme le duo The B.W.B.S., ce qui est une abbréviation de The Believers Will Be Suspicious. Avec le batteur George Matthews Isaiah et Vail forment à leur tour le trio High Whitness.
En 2010, R.M. Isaiah a fait son premier CD intitulé Numbers Have Their Way, sur lequel il a enregistré la chanson Master and Margarita.
Audio
R.M. Isaiah - Master and Margarita
Fiche technique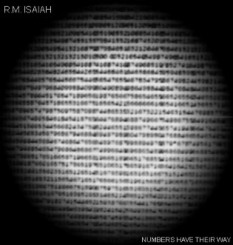 Album
Numbers Have Their Way (CD)
Artistes
R.M. Isaia - chant, basse
Craig Vail - guitare, chœurs
George Matthews - batterie, chœurs
Label
Inconnu
Site web
R.M. Isaiah sur MySpace
R.M. Isaiah sur Reverbnation