The Rolling Stones - Sympathy for the Devil
Français > Adaptations > Musique > Rock & Roll > The Rolling Stones
Sympathy for the Devil est une des peu de chansons des Rolling Stones que Mick Jagger a écrit seul, sans l'aide de son copain Keith Richard. Au début il a dit qu'elle a été inspirée par un poème de Baudelaire. Mais plus tard il a dit qu'elle a été inspirée par Le maître et Margarita, que Marianne Faithfull lui aurait offert comme un cadeau. Faithfull, qui fut la petite amie de Jagger à l'époque, a déclaré lors d'une entrevue avec Sylvie Simmons du magazine Mojo en 2005: «J'ai dit à Mick de lire 'Le maître et Marguerite' et suite à cela, après en avoir discuté longuement avec moi, il a écrit cette chanson».
Il y a beaucoup de similarités remarquables entre Sympathy for the Devil et le roman de Boulgakov. La chanson commence par «Please allow me to introduce myself, I'm a man of wealth and taste», ce qui ressemble fort à l'introduction de Woland à Ivan et Berlioz dans la traduction de Michael Glenny: «Please excuse me, for permitting myself, without an introduction...»Et ensuite suivent plus de références aux phrases du Maître et Marguerite. La première strophe s'accorde tout à fait avec les sentiments décrits par Woland quand il parle de Pilate:
«And I was around when Jesus Christ had His moment of doubt and pain
Made damn sure that Pilate washed his hands and sealed His fate.»
Et ça continue au début de la deuxième strophe avec des événements réputés de l'histoire russe qui sont explicitement ou indirectement observés par Bulgakov dans le roman.
«I stuck around St. Petersburg when I saw it was a time for a change
Killed the Tzar and his ministers, Anastasia screamed in vain.»
Pour votre information: Anastasia est la fille du tsar supposée d'avoir été assassiné avec sa famille en juillet de 1918. Les rumeurs ont persisté de sa fuite possible. En février, 1920 elle aurait été repêchée du fleuve à Berlin, complètement déguenillée et subissant de l'amnésie...
L'atmosphère et la génèse de la chanson correspond aussi tout à fait au roman. Le groupe a utilisé des instruments assez inhabituels pour un ensemble de rhytm et blues - comme les congas et les maracas - et après un long processus créatif, c'est devenu une samba, que Jagger a appelée «hypnotique» et Richards même «insensé». Comme dans le roman, le Satan danse une danse de victoire joyeuse sur les ruines de la civilisation humaine. Charlie Watts, le drummer du groupe, l'a décrit comme suit: «The combination of instrumental colors is pretty awe-inspiring. Start with the basic rhythm section - congo rhythms and maracas and such, then add some honky tonk piano. Then there is Keef expressing Satan's personal joy through the famous razor sharp shards of guitar solo. And don't forget the frenzied, high pitched 'woo-wooooo' vocal harmonies from the natives. On top of all this is Mick as an exceptionally articulate and expressive devil who, let us say, really enjoys his work. He is articulate not just in his choice of words, but in the melodic development and precision, the care taken in picking the exact right phrases and pauses to tell the tale for maximum impact. You know, when a magic man like this comes along, the only thing you can really do is follow him and become his willing servant.»
Comment la chanson est créée d'une ballade de blues à une samba agitée peut être regardé dans le film One Plus One réalisé par Jean-Luc Godard en 1968 pendant l'enregistrement de Sympathy for the Devil. Le processus de croissance de la chanson est montré en combinaison avec des images rétives d'une démonstration de Black Power et d'une interview avec Eve Democracy.
Et finalement un autre petite histoire amusante: Ray Manzarek, un membre du groupe légendaire The Doors, qui avait fait des études de réalisateur de films, avait depuis longtemps espéré - comme Roman Polanski - de faire un film basé sur Le maître et Margarita. Il a voulu que Mick Jagger ait joué le rôle de Professeur Woland. Jerry Hall, la petite amie de Jagger en ce temps, a dit à Manzarek: «Don't make the movie until he's finished with the tour. It's his favorite book! The part is his! He is Professor Woland.»
Audio
Ici vous pouvez écouter Sympathy For The Devil des The Rolling Stones
Détails techniques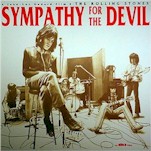 Album
Sympathy For The Devil (CD Single remixed in 2003)
Artistes
Mick Jagger - chant
Keith Richard - guitare, guitare basse, chœurs
Brian Jones - guitare, chœurs
Bill Wyman - maracas
Charlie Watts - batterie
Nicky Hopkins - piano, chœurs
Rocky Dijon - congas
Marianne Faithfull, Anita Pallenberg, Jimmy Miller - chœurs
Label
Decca/Amkco Records
ASIN
B0000BV21X