Botanica - What Do You Believe In?
Nederlands > Adaptaties > Muziek > Rock & Roll > Botanica
Botanica is een rock band die in 1999 door zanger en keyboardspeler Paul Wallfisch werd opgericht in Los Angeles, maar die nu opereert vanuit New York.
Op 2 maart 2012 lanceerde Botanica zijn achtste album met als titel What Do You Believe In? Onderaan de cover staat nog een ondertitel: The Master and Margarita, meteen een verwijzing naar de oorsprong van het album.
Zanger en keyboardspeler Paul Wallfisch van Botanica werd in augustus 2010 immers muzikaal directeur van het Schauspielhaus in Dortmund (Duitsland), en schreef in die hoedanigheid de soundtrack van de theaterproductie Der Meister und Margarita, die daar op 16 maart 2012 in première ging in een regie van Kay Voges. Wallfisch zou zelf instaan voor de uitvoering van de muziek met zijn band Botanica, en hij schreef ook de meeste teksten voor de songs. Tijdens de opvoering in Dortmund bevond Botanica zich op een platform, drie meter boven het podium, van waar ze de begeleidende muziek speelden.
De soundtrack werd ook afzonderlijk op CD uitgebracht onder de titel What Do You Believe In? De thematische eenheid van de songs geeft het album de allure van een rock opera. Tijdens de opnamen overleed de moeder van Wallfisch, wat volgens hem heeft bijgedragen aan de melancholische, soms donkere toonaard van de songs.
Audio
Botanica - Judgment (The Master and Margarita)
Technische details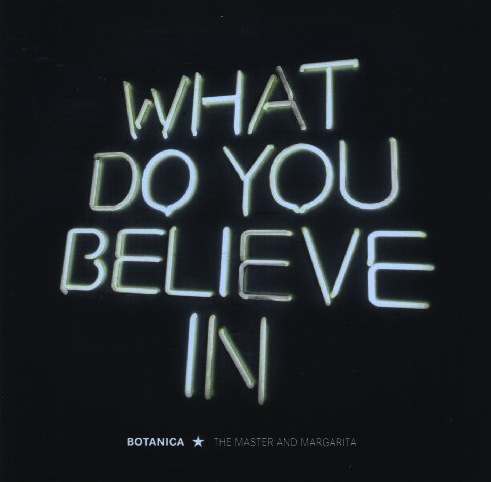 Album
What Do You Believe In?
Muzikanten
Paul Wallfisch - zang en keyboards
John 'Loudboy' Andrews -  gitaar
Jason Binnick -  bas
Brian Viglione - drums
Tracks
1. Judgement 3:30  
2. Ball in hell 3:19
3. Dog  3:17
4. Manuscripts don't burn 3:41  
5. Everybody lies  4:58
6. Park bench  4:21
7. Money  3:06
8. Kingdom of doubt 5:01  
9. Frictionless skates  3:00
10. Angel  3:41
11. Winter's evening  3:20
12. Past one o'clock 4:05

Label
Rent A Dog
UPC 825427302229
Website