Desert - Final Journey
Nederlands > Adaptaties > Muziek > Rock & Roll > Desert
Desert is een Israëlische power metal band, opgericht in 2002. Ze hebben 2 EP's uitgebracht - The Way To Honor (2004) en Prophecy Of The Madman (2006), gevolgd door een eerste volledig studio album Star Of Delusive Hopes (2011).
Doorheen de jaren verwierf de band bekendheid in Israël en daarbuiten met een energieke heavy metal show, waarbij ze op de meest verscheiden plaatsen optraden, van kleine clubs tot internationale openluchtfestivals. In het kaer van hun Star Of Delusive Hopes tournee speelde Desert op festivals in Zweden, Cyprus en Italië.
De band deed er twee jaar over om hun tweede album, Never Regret, op te nemen. Het album werd gerealiseerd met de hulp van gastmuzikanten Ralf Scheepers (zang), Infy Snow (zang), Merry Ann Genin (viool) en Alex Zvulun (gitareb). Het album werd uitgebracht op 30 maart 2015. De song Final Journey, geschreven door tetsnman Oleg Aryutkin (muziek) en zanger Alexei Raymar (tekst), beschrijft de gedachten van de meester in de laatste hoofdstukken van De meester en Margarita.
Technische details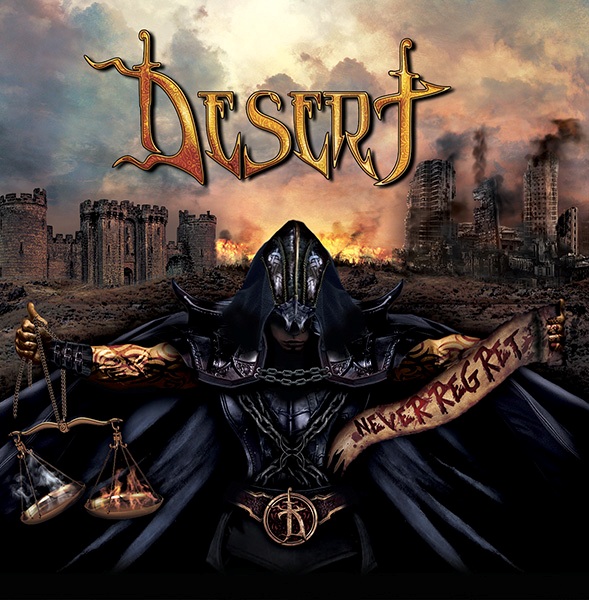 Album
Never Regret

Muzikanten
Alexei Raymar - zang
Sergei Metalheart - gitaar
Sergei Dmitrik - bas
Oleg Aryutkin - keyboards
Assaf Markowitz - drums
Gastmuzikanten
Ralf Scheepers - zang
Infy Snow - zang
Alex Zvulun - gitaar
Merry Ann Genin - viool
Label
Raven Music en IROND (Rusland)
Website
Klik hier om de website van Desert te bezoeken
Klik hier om de Facebook pagina van Desert te bezoeken
Klik hier om de Twitter account van Desert te bezoeken

Andere muziekgenres
Navigatie