The Rolling Stones - Sympathy for the Devil
Nederlands > Adaptaties > Muziek > Rock & Roll > The Rolling Stones
Sympathy for the Devil is één van de weinige Stonesnummers die Mick Jagger alléén geschreven heeft, zonder de hulp van maatje Keith Richard. Aanvankelijk zei hij dat het gebaseerd was op een gedicht van Baudelaire. In latere verklaringen luidde het echter dat hij zijn inspiratie gevonden had bij The Master and Margarita, dat hij van Marianne Faithfull cadeau zou gekregen hebben. Niet onmogelijk, wanneer je weet dat in 1967 - één jaar vóór het uitbrengen van Sympathy for the Devil - een nieuwe Engelse vertaling van The Master and Margarita, gemaakt door Michael Glenny, was uitgebracht door Harvill Press - nu onderdeel van Random House. Faithfull, die op dat moment de vriendin van Jagger was, zei tijdens een interview met Sylvie Simmons van het tijdschrift Mojo in 2005: «Ik heb Mick 'The Master and Margarita' laten lezen en nadat hij het lang met mij besproken had schreef dat liedje».
Enkele overeenkomsten met deze vertaling zijn opvallend. De song begint met «Please allow me to introduce myself , I'm a man of wealth and taste», wat sterk doet denken aan de wijze waarop Woland zich voorstelt aan Ivan en Berlioz in Michael Glenny's vertaling: «Please excuse me, for permitting myself, without an introduction...» Daarna volgen nog meerdere allusies op zinnen uit De meester en Margarita. Het begint al in de eerste strofe die perfect overeenstemt het de gevoelens die Woland beschrijft wanneer hij het over Pilatus heeft:
«And I was around when Jesus Christ had His moment of doubt and pain
Made damn sure that Pilate washed his hands and sealed His fate.»
En het gaat verder bij het begin van de tweede strofe met gebeurtenissen uit de Russische geschiedenis waarop Boelgakov in zijn boek al dan niet expliciet commentaar geeft.
«I stuck around St. Petersburg when I saw it was a time for a change
Killed the Tzar and his ministers, Anastasia screamed in vain.»
Ter informatie: Anastasia is de jongste dochter van de in juli 1918 vermoorde tsarenfamilie. Van haar wordt gezegd dat ze de moordpartij overleefde en later, in februari 1920, in Berlijn uit het water werd opgevist, haveloos, en lijdend aan geheugenverlies...
Ook de sfeer en de opbouw van de song sluit perfect aan bij het boek. De groep werkte met tot dan toe voor een rhytm & bluesband ongebruikelijke instrumenten - onder meer congas en maracas - en na lang en veel (her)bewerken kregen we een samba, die Jagger zelf «hypnotisch» noemde en Richards zelfs «waanzinnig." Net zoals in het boek danst Satan in de song een vrolijke overwinningsdans, op de ruïnes van de menselijke beschaving. Charlie Watts, de drummer van de groep, omschreef het als volgt: «The combination of instrumental colors is pretty awe-inspiring. Start with the basic rhythm section - congo rhythms and maracas and such, then add some honky tonk piano. Then there is Keef expressing Satan's personal joy through the famous razor sharp shards of guitar solo. And don't forget the frenzied, high pitched «woo-wooooo» vocal harmonies from the natives. On top of all this is Mick as an exceptionally articulate and expressive devil who, let us say, really enjoys his work. He is articulate not just in his choice of words, but in the melodic development and precision, the care taken in picking the exact right phrases and pauses to tell the tale for maximum impact. You know, when a magic man like this comes along, the only thing you can really do is follow him and become his willing servant.»
Hoe de song ontstond uit een blues ballad kan je zien in de film One Plus One die Jean-Luc Godard maakte in 1968 tijdens de opnames van Sympathy For The Devil. Het groeiproces van de song wordt er getoond in combinatie met eigenzinnige beelden van onder meer een Black Power demonstratie en een interview met Eve Democracy.
Tenslotte nog een aardig weetje: Ray Manzarek, lid van de legendarische groep The Doors, maar van opleiding filmmaker, heeft - net zoals Roman Polanski trouwens, lang de hoop gehad een film te kunnen maken van The Master and Margarita. Hij wou dat Mick Jagger de rol van Professor Woland speelde. Jerry Hall, de toenmalige vriendin van Jagger, zei hem echter: «Don't make the movie until he's finished with the tour. It's his favorite book! The part is his! He is Professor Woland.»
Audio
Luister hier naar Sympathy For The Devil van de The Rolling Stones
Technische fiche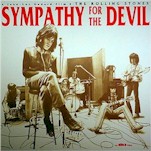 Album
Sympathy For The Devil (CD Single heruitgebracht in 2003)
Uitvoerders
Mick Jagger (zang)
Keith Richard (gitaar, basgitaar, backing vocals)
Brian Jones (gitaar, backing vocals)
Bill Wyman (maracas)
Charlie Watts (drums)
Nicky Hopkins (piano, backing vocals)
Rocky Dijon (congas)
Marianne Faithfull, Anita Pallenberg, Jimmy Miller (backing vocals)
Label
Decca/Amkco Records
ASIN
B0000BV21X