Year Long Disaster - Black Magic
Nederlands > Adaptaties > Muziek > Rock & Roll > Year Long Disaster
Year Long Disaster is een hard rock band uit Los Angeles, California, die in 2003 werd opgericht door gitarist en zanger Daniel Davies,de zoon van Dave Davies, de lead gitarist van The Kinks. Andere leden van de band zijn bassist Rich Mullins en drummer Brad Hargreaves.
In 2007 werd hun debuutalbum uitgegeven bij Volcom Entertainment en werden ze als een van de beste bands voor 2008 genoemd in Rolling Stone Magazine. In december 2007 werden ze bij Yahoo! de User's Choice for the month.
Op 9 maart 2010 bracht Year Long Disaster zijn tweede album uit onder de titel Black Magic: All Mysteries Revealed. Het werd geproduced door meervoudig Grammy Award winnaar Nick Raskulinecz en is ten dele geïnspireerd door De meester en Margarita.
Daniel Davies beschrijft zijn teksten voor het nieuwe album «als een poging tot het doorkruisen van schizofrenie, afgewisseld met verleidingen op het kerkhof, Pontius Pilatus en een zes meter hoge kat met pistolen».
De songs op het album hebben titels als Black Magic (Zwarte Magie), Stranger In My Room (Een vreemdeling in mijn kamer) en Sparrow Hill (De mussenheuvels).
Audio
Year Long Disaster - Black Magic
Technische fiche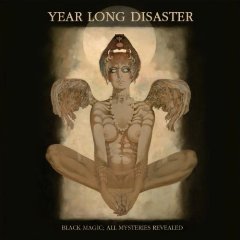 Album
Black Magic: All Mysteries Revealed
Uitvoerders
Daniel Davies - guitar, vocals
Rich Mullins - bass, vocals
Brad Hargreaves - drums
Label
Volcom Entertainment, 2010
ASIN
B00315CVAS
Website
De website van Year Long Disaster
Year Long Disaster op Facebook
Year Long Disaster op Twitter