Yorick - Plebeian Reign
Nederlands > Adaptaties > Muziek > Rock & Roll > Yorick
De Gothic music band Yorick is zeer karig met informatie over zichzelf. Op de website van Starfish Music, waar hun eerste cd werd uitgebracht, is de band van de lijst van artiesten geschrapt. In één van de weinige gepubliceerde interviews zegt frontman en pianist Uta Kipiani dat Yorick een Georgische band is die in 2003 werd opgericht en meteen daarna al een eerste cd kon opnemen.
De naam Yorick is ontleend aan Shakespeare, het is de hofnar waarvan de schedel wordt opgegraven in Hamlet. Ook de titel van de eerste cd, The Rest is Silence, is overigens een citaat uit Hamlet. Yorick wordt beïnvloed door de muziek van de late romantiek en de Russische romances. Niet alleen tekstueel, maar ook qua sfeer leunt de band sterk aan bij auteurs als Sartre en Camus.
In 2006 zette Yorick zangeres Thea Titvinidze aan de kant. Jazzvocaliste Tatia, bekend uit het jazzcircuit in Manhattan, New York, nam haar plaats in en de band trok weer de studio in om de cd Plebeian Reign op te nemen. Deze cd bevat acht songs, die allemaal geïnspireerd werden door Russische literatuur. De eerste song is The Demon, geïnspireerd door Michail Lermontov, de tweede is Anna Karenina, naar de bekende heldin van Lev Tolstoj.
Alle andere songs zijn geïnspireerd door De meester en Margarita en, met uitzondering van Enter the Hero, vooral door het tweede deel van de roman.
Audio
Luister naar 'Enters the Hero'
Luister naar 'Margarita'
Luister naar 'Flight'
Luister naar 'Satan's Ball!'
Luister naar 'The liberation of the Master'
Luister naar 'Time to go! Time to go!'
Technische fiche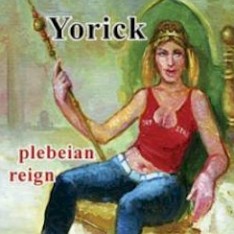 Album
Plebeian Reign (2006)
Uitvoerders
Kakha Abramishvili - hoorn, bas
Uta Kipiani - keyboards, backing vocals
Tatia - vocals
Sophie Gibladze - piano
Serge Shengelia - gitaar
Lev Asatiani - drums
Trackist
Enter the Hero
Margarita
Flight
Satan's Grand Ball
The Liberation of the Master
Time to go! Time to go!