Year Long Disaster - Black Magic
English > Adaptations > Music > Rock & Roll > Year Long Disaster
Year Long Disaster is a hard rock band from Los Angeles, California, created in 2003 by guitarist and vocalist Daniel Davies, the son of Dave Davies, the lead guitarist of The Kinks. Other members of the band are bassist Rich Mullins and drummer Brad Hargreaves.
In 2007 they released their debut full length album with Volcom Entertainment and were named one of the best new bands for 2008 in Rolling Stone Magazine. In December 2007, they won he Yahoo! User's Choice of the month.
On March 9, 2010, Year Long Disaster released their second album Black Magic: All Mysteries Revealed which was produced by Grammy Award-winning producer Nick Raskulinecz of which some songs are inspired by The Master and Margarita.
Daniel Davies describes his lyrics for the new songs as «traversing schizophrenia interspersed with graveyard seductions, Pontius Pilate and six foot tall cats with pistols».
The songs on the album have titles such as Black Magic, Stranger In My Room and Sparrow Hill.
Audio
Year Long Disaster - Black Magic
Technical details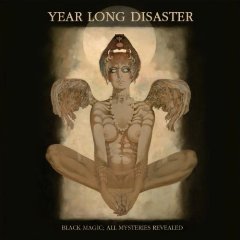 Album
Black Magic: All Mysteries Revealed
Artists
Daniel Davies - guitar, vocals
Rich Mullins - bass, vocals
Brad Hargreaves - drums
Label
Volcom Entertainment, 2010
ASIN
B00315CVAS
Website
The website of Year Long Disaster
Year Long Disaster on Facebook
Year Long Disaster onTwitter