Desert - Final Journey
Русский > Адаптация > Музыка > Рок-н-ролл > Desert
Desert is an Israeli power metal band, created in 2002. They have released 2 EP's - The Way To Honor (2004) and Prophecy Of The Madman (2006), followed by the first full length studio album Star Of Delusive Hopes (2011).
Through the years the band became known in Israel and abroad for its energetic heavy metal show, and has been gigging various venues ranging from small clubs to international open-air festivals. As a part of Star Of Delusive Hopes tour, Desert performed on the venues of festivals in Sweden, Cyprus and Italy.
The band spent two years producing the second full length album, Never Regret. The album was recorded with guest musicians Ralf Scheepers (vocals), Infy Snow (female vocals), Merry Ann Genin (violin) and Alex Zvulun (guitars). The album was realeased on March 30, 2015. The song Final Journey, written by keyboard player Oleg Aryutkin (music) and lead singer Alexei Raymar (lyrics), describes the thoughts of the master in the last chapter of The Master and Margarita.
Технические детали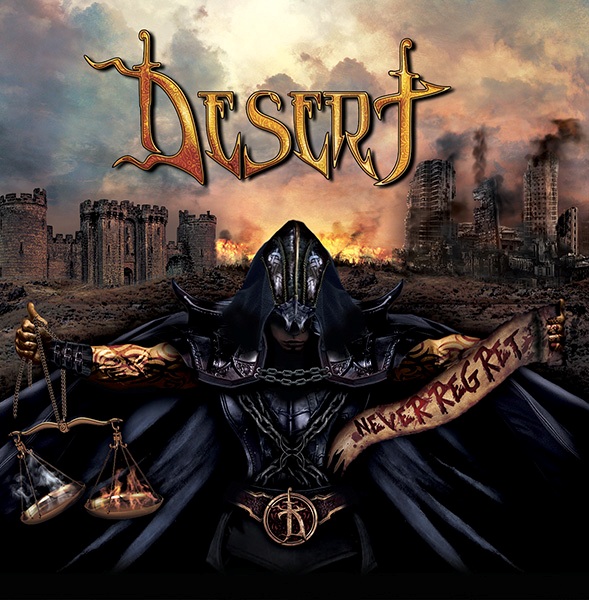 Album
Never Regret

Musicians
Alexei Raymar - vocals
Sergei Metalheart - guitar
Sergei Dmitrik - bass
Oleg Aryutkin - keyboards
Assaf Markowitz - drums
Guests
Ralf Scheepers - lead vocals
Infy Snow - female lead vocals
Alex Zvulun - lead guitars
Merry Ann Genin - violin
Label
Raven Music and IROND (Russia)
Website
Click here to visit Desert's website
Click here to visit Desert's Faebook page
Click here to visit Desert's twitter account

Другие музыкальные стили
Навигация