The Trolls - Mistrz i Małgorzata
Русский > Адаптация > Музыка > Рок-н-ролл > The Trolls
The Trolls is a Polish punkrock band die operating from the city of Wrocław. The band was founded in January 2011. It took a while before they found their own style of music, partly because of a number of changes in the band's members.
Meanwhile, they have evolved towards rugged punk rock with metal influences, and they play in Polish club a few times a year.
On April 22, 2017, the band announced the release of a new album with 12 songs. One of the songs which have already been already released is Mistrz i Małgorzata, and has been written as a tribute to Mikhail Bulgakov's masterpiece.
Audio

The Trolls - Mistrz i Małgorzata
Технические детали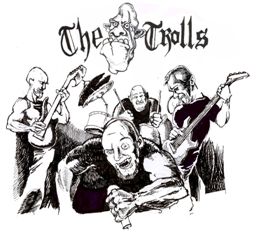 Альбом
The Trolls

Музыканты
Karpiu - vocals, lead guitar
Kacu - bass, vocals
Marek - guitar
Parol - drums, vocals
Издатель
Unknown
Веб-сайт
Click here to visit the Facebook page of The Trolls

Другие музыкальные стили
Навигация