Р.М. Исаях - Мастер энд Маргарита
Русский > Адаптация > Музыка > Рок-н-ролл > Р.М. Исаях
R.M. Isaiah is a singer-songwriter from San Fransisco, California. I haven't got much information on him, just that he plays bass, nylon string guitar and keyboards.
Together with Craig Vail he forms the duo The B.W.B.S., which stands for The Believers Will Be Suspicious. Together with drummer George Mat-thews, Isaiah and Vail form a trio called High Whitness.
In 2010, R.M. Isaiah made his debut CD called Numbers Have Their Way, with 15 songs, one of which is Master and Margarita.
Аудио
R.M. Isaiah - Master and Margarita
Технические детали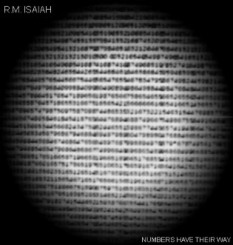 Album
Numbers Have Their Way (CD)
Artists
R.M. Isaia (lead vocals, bass guitar)
Craig Vail (guitar, backing vocals)
George Matthews (drums, backing vocals)
Label
Unknown
Website
R.M. Isaiah on MySpace
R.M. Isaiah on Reverbnation